Nail Salon in Wallingford CT
Allow our nail specialist to deliver exceptional service by using our SpaRitual nail elixirs for your manicure and pedicure needs. SpaRitual is an eco-friendly company that uses vegan ingredients, bottles made from recycled materials and is DBP, formaldehyde and Toluene-free. Price levels vary by specialist and start at the following rates.
All services are a' la carte.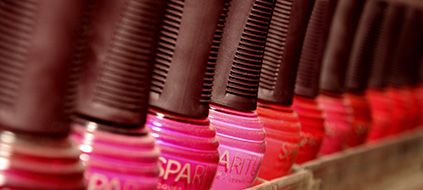 NAIL SALON IN WALLINGFORD, CT PRICES
Service

Starting at Price

Classic Manicure

Everything you need to put your best hand forward! Our technicians provide a relaxing soak and moisturizing massage, precise nail grooming, cuticle work and expertly applied polish.

Serenity Manicure

Our signature manicure that is luxurious from start to finish! Our classic manicure with the addition of a hydrating and moisturizing paraffin wrap. (includes paraffin)

Mens Manicure

Designed especially for men, invigorate and renew overworked hands with a relaxing soak, moisturizing massage, precise grooming and cuticle work. A firm handshake begins with well-maintained hands. We'll cleanse and massage then finish up with precise cuticle work and buff them back into tiptop shape.

Polish Change (hands)

Are your eyelashes or eyebrows light or sparse? Eyelash tinting will bring out the depth of your eye color while giving your lashes a thicker, more prominent look.

Mini Pedicure

Designed to give you the essentials in just the right amount of time! A quick soak, nail grooming, foot file, cuticle work and expertly applied polish.

Classic Pedicure

Our technicians provide your feet with a luxurious soak, exfoliating scrub, moisturizing mask, massage, foot file and a fresh coat of expertly applied polish that will leave your toes in top condition!

Serenity Pedicure

Relax in a comforting soak before you are given a moisturizing paraffin mask, exfoliating scrub and foot file. Finish off the service with complete with precise nail grooming, cuticle work and expertly applied polish. (includes paraffin)

Mens Pedicure

A relaxing whirlpool soak followed by an invigorating scrub and exfoliation of the feet.
Pricing is subject to applicable tax. Gratuity is always left to the discretion of our guests. Unless noted, gift certificates do not include gratuities.